Earlier today the CEO of well known cryptocurrency exchange Binance, made famous for its handy ability for crypto users to be able to swap their coins without having to provide any identification, thus avoid being tracked, expressed anger that someone in the bitcoin community dared to use the legal system to settle a complaint.
We spoke to some of the BTC community about CZ (known by this moniker to save english speaking people the embarrassment of trying to pronounce syllables that don't appear on a McDonald's menu) and the problem he had with Craig Wright using the legal system to establish that he wasn't a fraud.
"Look, CZ may not be the most technically proficient person in this space," said self proclaimed Bitcoin expert @justHODLuntilyoudie69. "And I really don't think he should bother to speak with those in cryptography who testify to Craig actually being the inventor of Bitcoin because they must be lying too. But it's well known that CZ really struggled to attract BTC maximalists to his business as Binance basically runs a shitcoin casino and work hard at evading certain laws."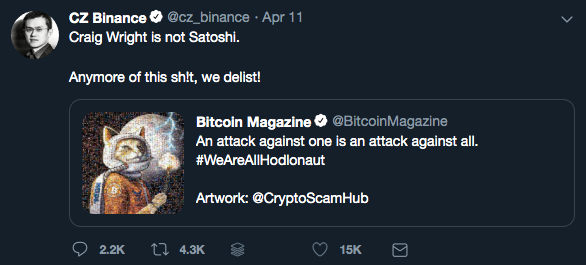 "So my guess is he saw this opportunity to be one of the cool kids and we're just letting him think it's working. He'll never actually be accepted as one of us though. He's so dodgy. I think he's a bigger scammer than Craig Wright even. I mean, when you think about it, Craig's never
Tip the author and continue reading.
4062 characters for 0.25 USD
Use Yen Points